Fellowship String Quartet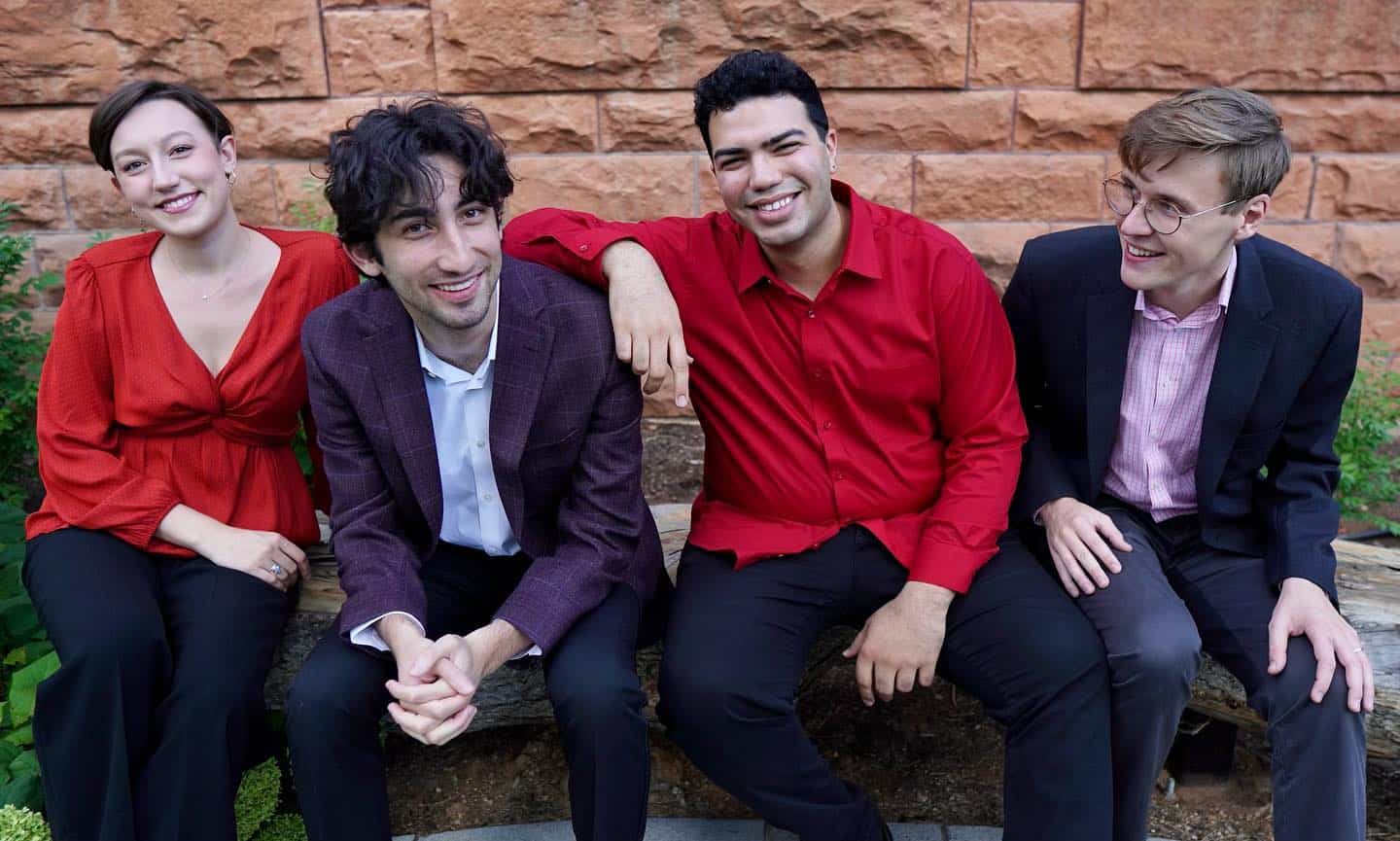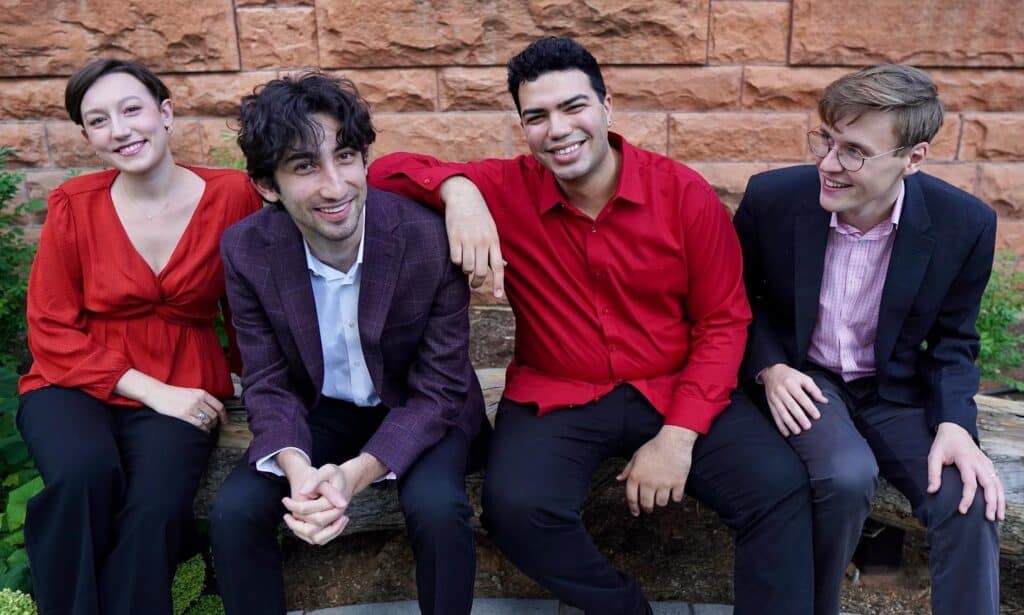 Music in the Vineyards is delighted to introduce the recipients of our annual String Quartet Fellowship Program, The Lirios Quartet.  Composed of violinists Benjamin Goldstein and Maggie Brady, violist Yuri Santos and cellist Chas Barnard, the Lirios Quartet was newly formed in August 2022 and is currently the Graduate Quartet in residence at The University of Colorado-Boulder where they study under the world renowned Takács Quartet.
During their first year together, the quartet has specialized in outreach events performing extensively in schools and retirement homes throughout Boulder and Aspen and at special events for the University. They enjoy the opportunity to share what they do with these diverse audiences and are looking forward to playing for a wide range of patrons in the Napa Valley.
The members of the Lirios Quartet are from diverse backgrounds, Benjamin Goldstein is from New York and studied for his undergraduate degree at Indiana University; Maggie Brady is a native of Boulder and received her undergraduate degree from the University of Colorado; Yuri Santos is originally from Brazil and like Ben is a graduate of Indiana University; Chas grew up in Oregon and received his undergraduate degree from the University of Oregon.
2023 is the sixth year of Music in the Vineyards String Quartet Fellowship Program, designed to identify and nurture an emerging pre-professional graduate ensemble. This year's winner, the Lirios Quartet chosen by national auditions, will join our roster of 40 professional musicians—including the Catalyst, Calidore and Telegraph Quartets for 2023—for three weeks of intensive mentoring and performance opportunities.
In addition to rehearsing and performing their own repertoire, the Lirios Quartet will have opportunities to perform alongside MITV artists on our main festival concert series plus assist MITV in reaching out to our community partners in the Napa Valley, performing free workshops and concerts at a variety of venues around the valley. Look out for them in venues throughout the festival between July 25th to August 13th, 2023. 
All (domestic) travel expenses
Housing and local transportation
$400 weekly stipend per member
Performance opportunities with festival musicians and ensembles
Performance opportunities in the greater Napa community
Intensive ensemble coaching and rehearsals.
Opportunities for private lessons
A video of two contrasting movements of any length
A short (1-3 minute) spoken introduction from each member that includes a brief personal bio and any distinctive or unique features about your ensemble that would make you suitable for this Fellowship
A comprehensive quartet repertoire list
When you donate to Music in the Vineyards, you ensure that the Festival will continue to enrich people's lives through the power of music.
Friday, July 28th, 2023  
7:00 pm
This program, drawn from the 19th century, includes Schubert's Rondo Brillante, an unknown gem rarely heard in the concert hall, Loeffler's post-romantic Rhapsodies, which bring together mysticism and folksong, and Fauré's most popular work, his Piano Quartet, which was the first music from his pen after a painful divorce.
Stay up to date on all of the latest news and events!